About Sagiss
Sagiss has been providing calm, confident, and credible managed services to North Texas businesses since 1997.
We do this through:
Operational excellence - Taking pride in our training and processes.

Proactive focus – Preventing bad things before they happen.

Eating our own dog food – Our clients don't use anything we don't use ourselves.

Audit & certification - Don't take our word for it. Independent CPAs verify our services.

Local team of professionals - Keeping our core competencies in-house.

Business acumen - We're business people who do IT, not IT people figuring out business.

Core Values - The Sagiss Way.
We have clients all over North Texas (and even some beyond).
Areas we serve include but are not limited to:
Allen

Arlington

Bedford

Carrollton

Colleyville

Coppell

Dallas

Denton
Euless

Farmers Branch

Fort Worth

Frisco

Garland

Grand Prairie

Grapevine

Hurst
Irving

Lewisville

McKinney

Mesquite

North Richland Hills

Plano

Richardson

Southlake
Certifications
We can tell you all the reasons you should trust us with your business.
But it means more when you hear it from third parties.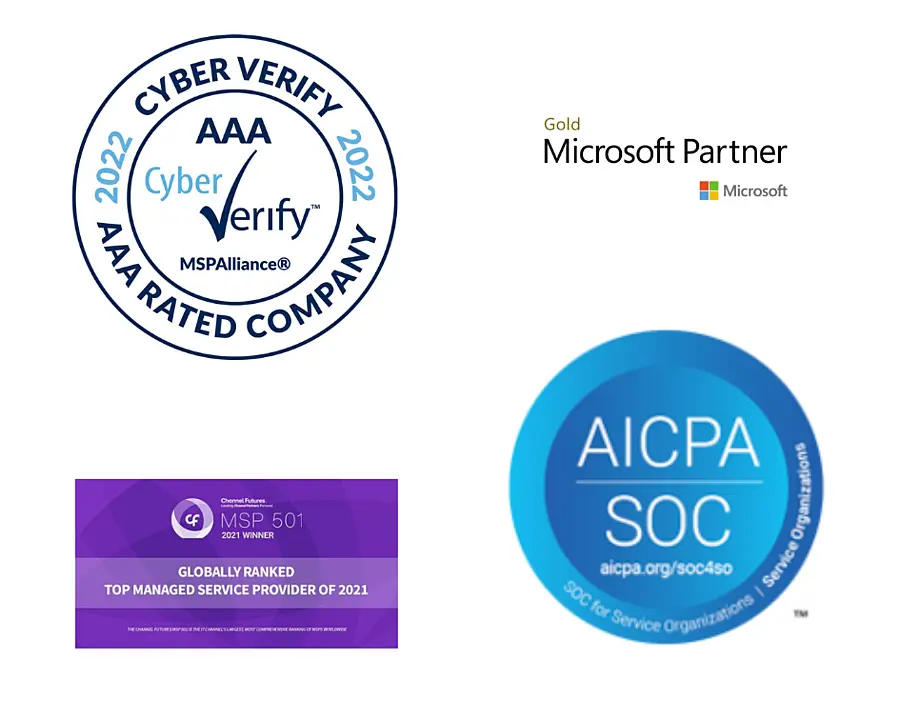 Check out our certifications to see why we're the right choice to start helping your business today.
Frequently Asked Questions
Below are some answers for crucial questions businesses should ask when considering a managed service provider.
When was Sagiss founded?
Sagiss was founded in 1997 by Karl Springer and Jim Lancaster.
What is Sagiss' company ownership and structure?
Sagiss is a Texas LLC owned and operated by co-founder Karl Springer and Travis Springer.
How many employees does Sagiss have?
Sagiss currently has around 30 employees.
How does Sagiss use full-time vs. contract employees?
All of Sagiss' employees are employed full time and work out of our office in Las Colinas. And all of our employees must pass background checks.
We do not employ any contract or offshore labor.
What certifications and training does Sagiss have and use?
Sagiss holds several Microsoft Gold partnerships. We are also a direct cloud solution provider (CSP) with Microsoft. This means we work directly with Microsoft, not a distributor. Additionally, we have a Premier Support Agreement that guarantees support and escalation from Microsoft for both Sagiss and our clients.
Sagiss employees undergo continuous training on the latest tools and technologies and hold a variety of certifications.
Has Sagiss been part of any mergers and acquisitions?
Sagiss has never been involved in a merger or acquisition.
What is Sagiss' operational capacity?
Sagiss has over 60 clients ranging from 5 to 300 employees. We have over 100 locations nationwide for our clients. Depending on the size and needs of our clients, Sagiss provides fully managed services or co-managed services, working with an internal IT team.
How are contracts structured?
Our contracts have an initial term of 12 months, after which they become month to month.
Sagiss uses a hybrid pricing model. This means we charge a fixed fee for our proactive services and bill hourly for reactive services.
Many other providers use an "all you can eat" model that is billed by the user or device.
It is important to note there is no true "all you can eat" pricing. Software licensing, hardware, and project work are rarely covered. Depending on the provider, things like new workstation configurations, user on/off-boardings, and application updates may not be covered.
We believe our hybrid model appropriately balances costs and the service requirements of our clients.
How does the onboarding process work?
Sagiss charges a one-time fee to onboard a new client equal to one month's services. The onboarding process includes deployment of all Sagiss tools as well as on-site documentation of the network, applications, and any relevant processes.
What insurance and liability protection does Sagiss carry?
Sagiss' limitation of liability is covered by a $1,000,000 errors and omissions policy.
It is not limited to any multiple of monthly fees.
How can I learn more about Sagiss' internal controls and processes?
Sagiss maintains current MSP Cloud Verify and SOC II Type 2 reports on our managed service operations. These reports are performed by third parties and are available by request.
Can I visit the office?
Sagiss encourages both current and prospective clients to visit our office.